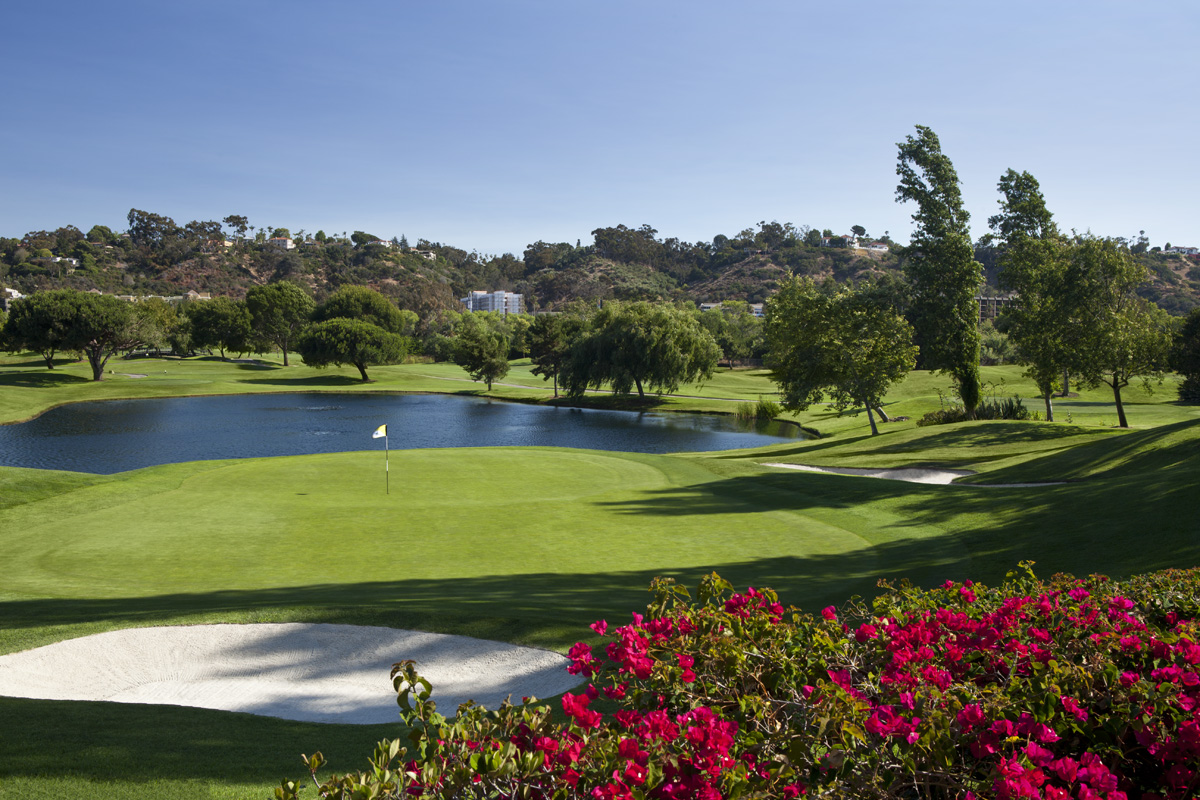 Annual Charity Golf Tournament
*Separate registration required
Located in the heart of San Diego's Mission Valley within minutes of the convention center, Riverwalk Golf Club offers an 18 hole resort style full length par 72 course. Along with magnificent gold, superb amenities and outstanding service, Riverwalk Golf Club has earned recognition among San Diego's best and most fun golf courses to play.
This San Diego Golf Course boasts mature stands of palm, oak and eucalyptus trees frame undulating fairways and manicured greens, with numerous wetland areas, nearly 70 bunkers and an array of picturesque water features – including three lakes and the San Diego River – creating both strategic diversity and a visually stunning backdrop for golf. While challenging for low handicappers, the course offers multiple tees on each hole, ensuring an enjoyable experience for golfers of all abilities.
Prepare yourself for an unparalleled golfing experience. The Riverwalk Golf Course will challenge you while providing a relaxing, beautiful San Diego day of golf. Test your accuracy with our fairways, water hazards and sand traps; we have everything you need to challenge you and improve your game.
Proceeds from the 2021 Geothermal Rising Annual Charity Golf Tournament will help fund the student scholarships. 
Transportation: Individuals are responsible for their own transportation.
Tournament Schedule: 7:00 AM Registration (includes Breakfast/Bloody Mary) | 8:30 AM Shotgun Start
Club Rentals: Golf club rentals are available on a first-come, first-served basis. Rental fees are $50 a set and are not included in the tournament fee. Contact the Riverwalk Golf Club for more information.  
Cancellation Policy: Registration cancellation requests must be made in writing and emailed to registration@geothermal.org by Wednesday, September 8, 2021, for a partial refund. A $25 processing fee applies to cancellations postmarked or emailed by this date. NO REFUNDS will be made for cancellation requests after Wednesday, September 8, 2021. Substitution(s) can be made at any time, with prior approval. 
If you have any questions regarding the Golf Tournament, please contact Brian Krause at bkrause@sanjoaquinbit.com or Billy Thomas at william.thomas@calenergy.com. 
Interested in becoming a Golf Tournament sponsor? Check out our list of sponsorship opportunities.